Smart Visofold 1000 Bi-folding Doors
Smart Visofold 1000 offers impressive opening apertures that can unite internal and external areas creating unique living and social areas.
A versatile aluminium sliding-folding door for both domestic and commercial applications. In a home, it serves as an excellent alternative to sliding doors or can open up an entire wall as part of a conservatory, offering a beautiful view or a seamless connection with the garden.
For commercial settings like bars, cafes, or restaurants, Visofold creates a glazed screen that maximizes natural light during inclement weather and easily opens up an entire wall in warmer conditions. With various opening configurations to choose from, Visofold doors adapt to suit any application, providing flexibility and functionality.
The Ultimate Bi-fold Door for Modern Living Spaces
Choices Visofold 1000 Slim slide folding doors create vast openings, uniting internal and external areas in an instant.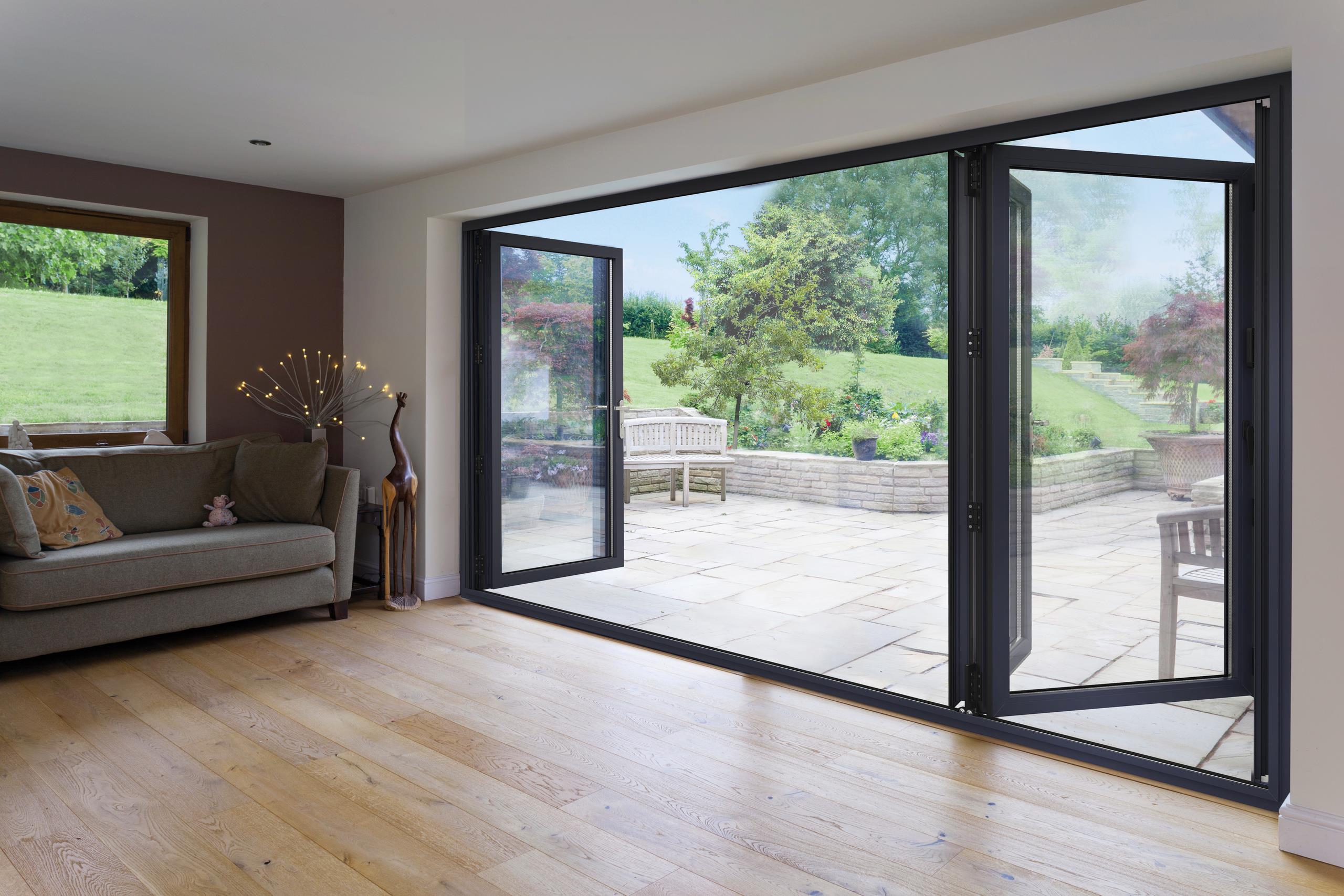 Enhanced Performance and Versatile Design
Visofold profiles are designed with a polyamide thermal break, enhancing thermal performance and overall U-Value. EPDM high-quality gaskets and weather brushes ensure excellent weather resistance.
Compliant with Building Regulations Document L 2010, Visofold prioritizes security with multi-point lock mechanisms on main opening sashes and shoot-bolt locking on floating mullions.
For accessibility, Visofold doors offer the choice of low thresholds for unimpeded entry or rebated thresholds for improved weather resistance. To suit your style, these doors come in standard or non-standard colors, including metallic, wood-structure, dual color, and Smart's unique Sensations range of textured finishes.
Experience the perfect blend of functionality and aesthetics with Visofold doors.
Embrace the Freedom of Design and Functionality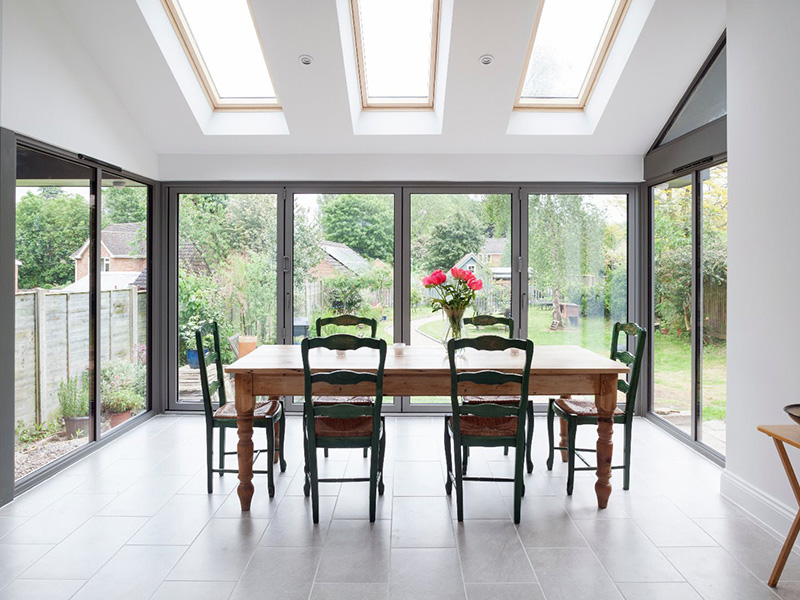 Pre-gasketed 'Quick-Glaze' Bead system
A. Slim line sashes now available with optional integrated gasket.
B. Combined bead/gasket has been designed to be easy to remove should any of the glazing panels need replacing.
C. Cost effective tap-in integrated bead and gasket (rather than clipped in), make installation and glazing process faster, more straight forward
Configurations
Available in a range of styles and designs, panels can be stacked inside or outside of the room, to the left, right or split to stack on both sides. Door sets can be manufactured to replace entire walls to maximise your opening space.
Type 1
Type 2
Type 3
Type 4
Type 5
Type 6
Type 7
Type 8
Type 9
Type 10
Type 12
Type 13
Standard Threshold with Optional Cill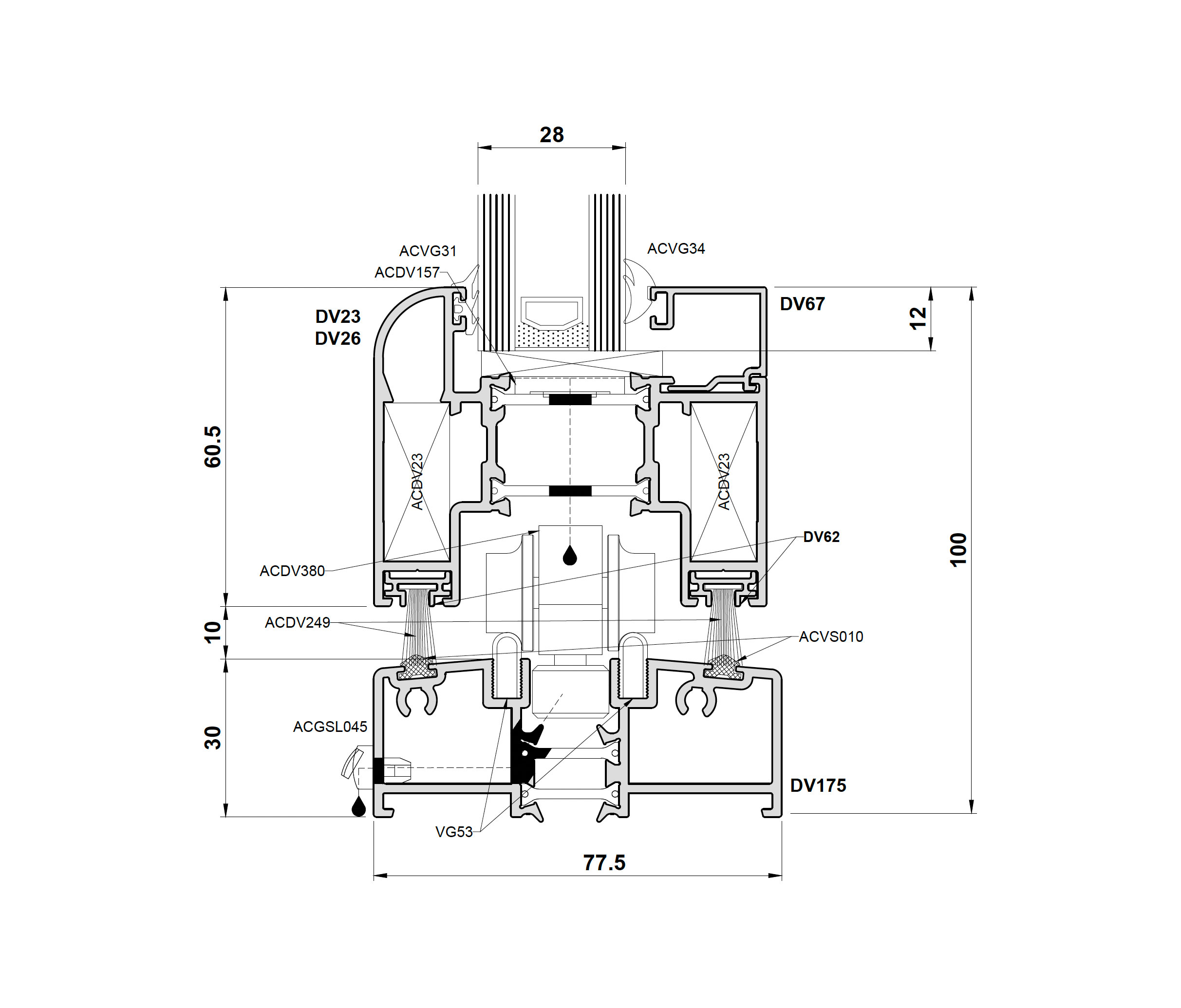 Low Threshold
Integrated Threshold
Head Detail with Optional Add-on and Head Drip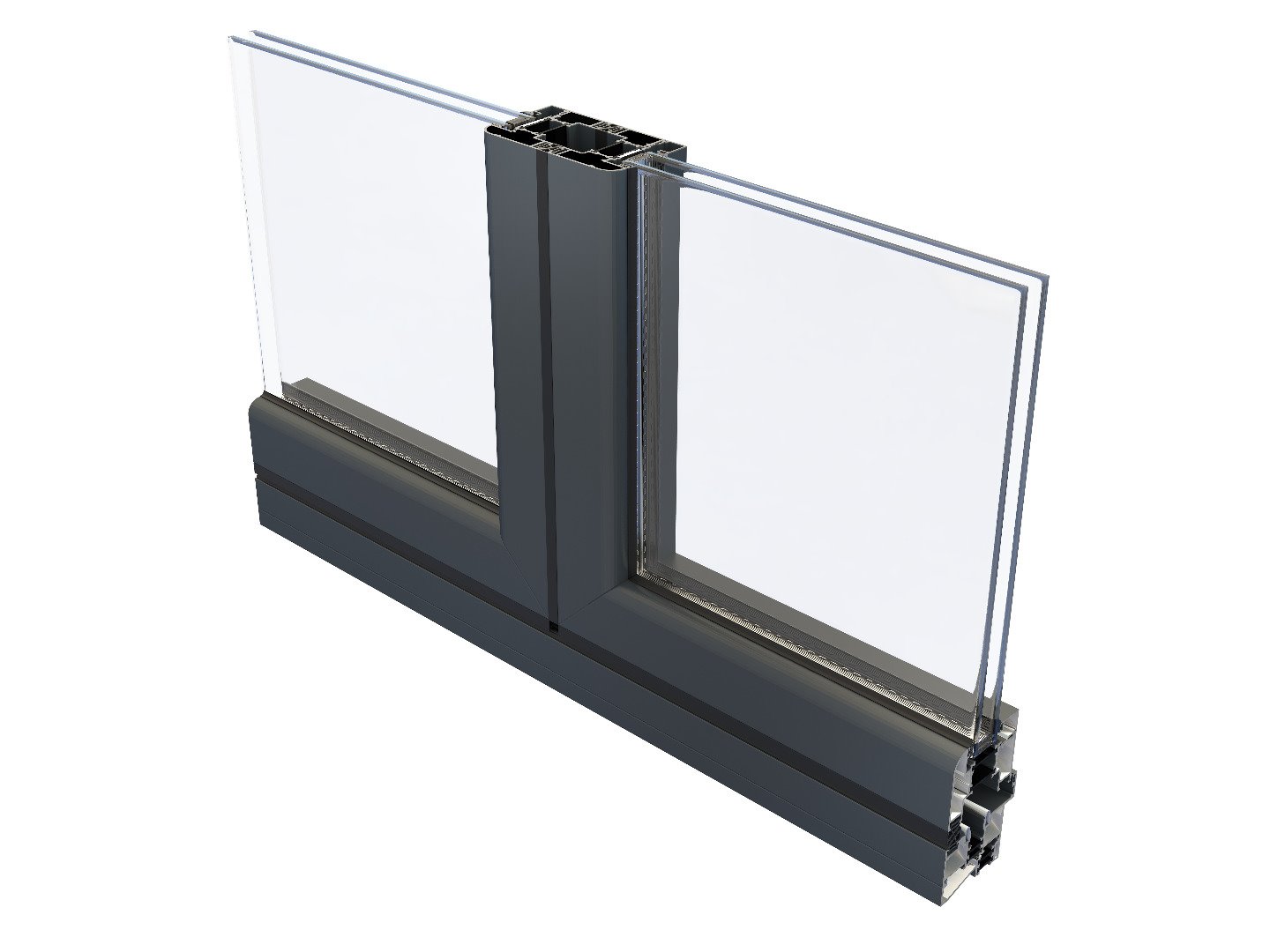 Design features
Pre-Gasketed, 'Quick-Glaze' Bead System
Attractive, slim-line profiles offer reduced sightlines
Fabricated using mitred corners
Domestic style 'lift-up' handle and an adjustable, one-piece keep
Trusted CWG Choices and Visofold Brand
Made from Aluminium Polyamide
Dual Colour Options available
Thermally Broken
NBS Listed
Document L Compliant
Achieves BS 6375-1:2009
Visofold 1000 Slim Dimensions
Fixed Max Width (mm) – 1200mm (per sash)
Fixed Max Height (mm) – 2500mm
Fixed Max Weight (kg) – 100kg (per sash)
Glazing (mm) – 28mm Pre gasketed, 24mm, 32mm, 34mm, 36mm double or triple glazed units
Frame Depth (mm) – 70mm
Typical Sightlines (mm) – 132mm
High Security Locking as Standard
Visofold Bi-Folding doors are fitted with high security locking as standard. Traffic doors have lever/lever handles operating multi-point hooking locks, similar as fitted to normal entrance doors.
Ultion cylinder fitted as standard
The handle also includes Ultion cylinder locking, which is accessible from both inside and outside, enabling a conventional entrance door facility without opening up the complete Bi-Fold.
For doors without a traffic door operation, a shootbolt handle is used. These are only accessible from the inside using the key operated lockable meeting stile twist handles.
Smart Visofold 1000 Slim Bi-fold features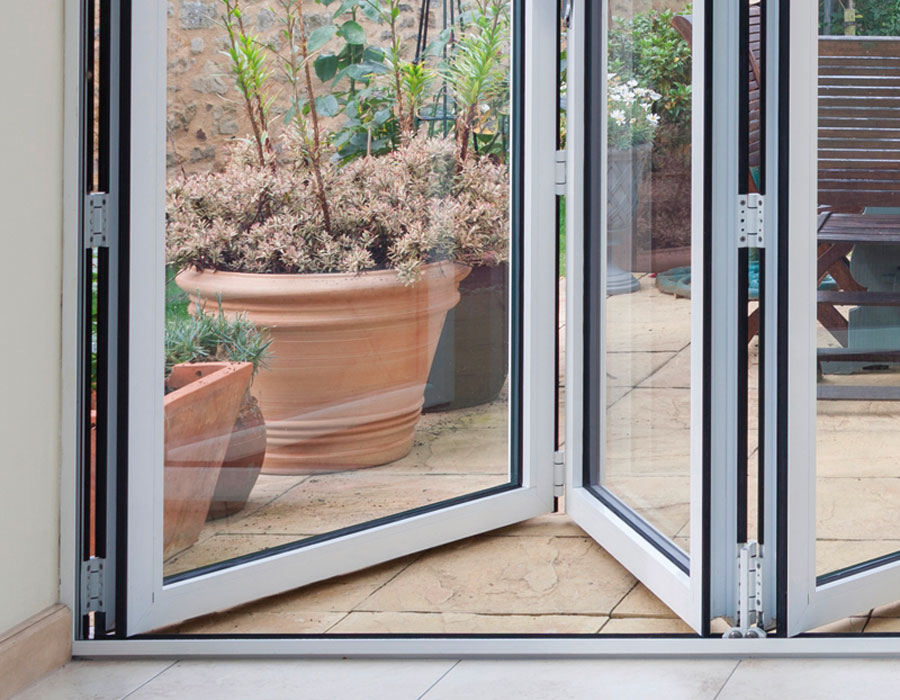 70mm Slim-line Profile
Slim-line 70mm Polyamide thermally broken aluminium profile, meeting stiles of just 132mm
Magnetic Catches
Magnetic catches hold leaves together when all panels are stacked, providing a stable set of opened doors.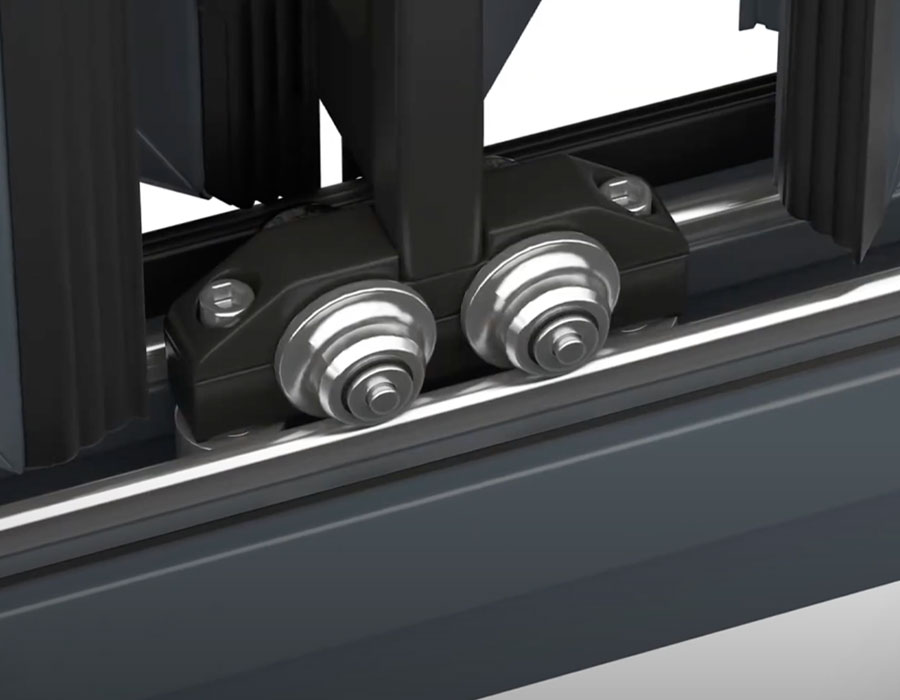 Stainless Steel Wheels
Four stainless steel wheel assemblies run on a dual stainless steel track, ensuring graceful operation and stability
D-Ring Pull Handle
D-Ring Pull handle for ease of use.
Flat Sash Handle
Used to operate the locking shoot-bolts on the sashes.
Colour Matched Hinges
White, Black and Anthracite Grey coloured hinges available
Hook Locking
Multipoint hook lock mechanism top and bottom for secure locking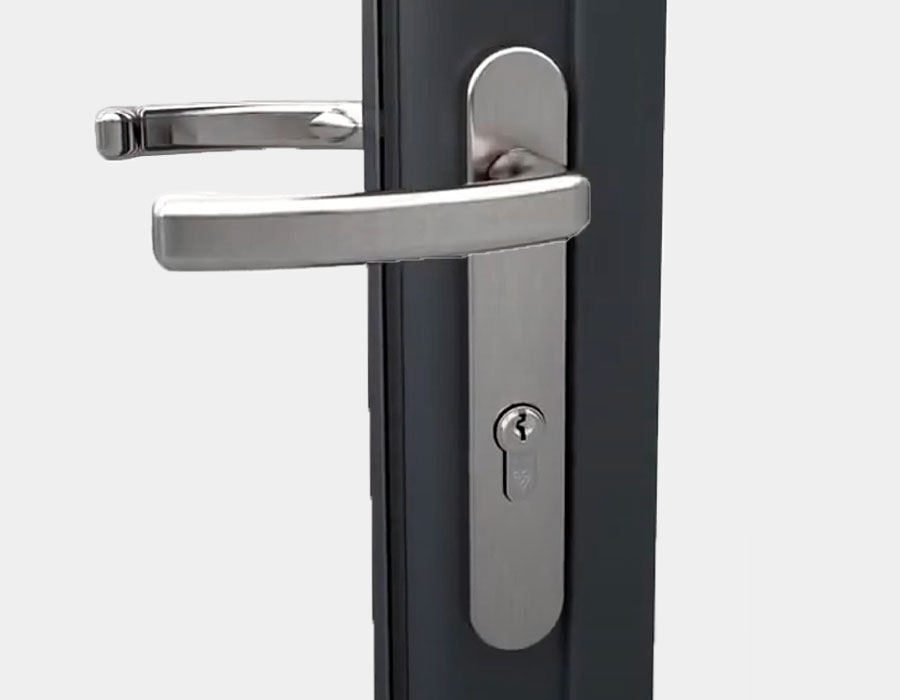 Main Operating Handle
Range of lever handle styles and colours.
Stainless Steel Shootbolts
Shoot bolts top and bottom bolts work with multipoint locking White
KL009

Anthracite Grey
KL005 RAL 7016m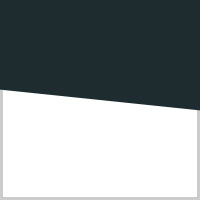 Anthracite Grey / White
*Open out only

Black
KL008 RAL 9005m
Available in any RAL colour
Available in a range of Single and Dual RAL Colour finishes
Downloads
(Click on a link to download the file)
You might also be interested in...
Choices Energy Savings Calculator
Do you want to know how much energy you can save by swapping to Choices Brand Windows?
With the ever increasing cost of fuel bills on everyone's minds, do yourself a favour and see how much energy you could save by swapping your tired old windows to our Energy Effcient 'Choices' brand windows. Not only will you likely save money but you will also be doing your bit to help the environment.
CONTACT US
Contact us on 01536 271940 or fill out our Online Enquiries Form