Secureroll® Garage Doors
Made-to-measure remote controlled roller garage doors
'Choices' Secureroll® roller garage doors are designed for space-saving. With easy installation, a near-silent operation they will provide years of trouble-free maintenance.
Secureroll® roller garage doors
Thermally efficient and made to measure
'Choices' Secureroll® remote controlled garage doors are available in a wide range of colours that perfectly complement 'Choices' Windows and Doors.
With strengthened PVC mouldings, heavy duty extruded aluminium bottom slats, dual formed weather seal, thermal insulated slats, wireless sensor systems, lighting and remote control units with a manual override they will be a welcome addition.
Classic
Our most popular and typical door for most garage scenarios. With their 77mm insulated slats, our Classic roller garage doors are Secured by Design as standard and ideal for internal face fit installations.
Blind Surface : 77mm
Weight per m² : 5kg
Maximum Width : 5500mm
Maximum Surface : 16m²
Compact
Designed specifically for openings where room above or to the sides of the opening is limited, our Compact range of roller garage doors are made from smaller 55mm insulated slats.
Blind Surface : 55mm
Weight per m² : 3.5kg
Maximum Width : 3000mm
Maximum Surface : 9m²
'Classic' design for typical garage door dimensions – 77mm Insulated slats
'Compact' design specifically for garages with limited headroom – 55mm Insulated slats
Secured by Design approval
Remote control operation
A wide range of colours
Comprehensive 5 year Secureroll® warranty
Intruder alarm
Courtesy light
Holiday mode – Increased security
Manual Override
(Click on an image to enlarge it)
Quality in Design
'Choices' SecureRoll garage doors are made to measure and come with the following features as standard:
Remote control operation provided by world-leading brands in home automation
A wide range of solid colours and painted wood effects, with the option to upgrade to a wood laminate or RAL colour matched finish
Comprehensive 5-year SecureRoll warranty
CE Marked
All SecureRoll doors are CE marked to indicate their compliance with European directives and product safety standards. This shows they meet health, safety and environmental protective legislation.
Secured by Design*
Secured by Design is a police-backed project for designing out crime. Products that have achieved this accreditation have been tested and proven to make life difficult for would-be burglars.
The Classic door has passed independent tests designed to simulate an attempted break-in and assess its general performance. Manufacturing quality practices are closely monitored to maintain accreditation.
*AluRoll are the company that holds the Secured by Design accreditation. CWG Choices Limited are an authorised reseller of Secured by Design products from AluRoll.
Standard Features
Secureroll roller garage doors are customisable to your exact job requirements; material, style, size, colour and operation.
Safety Brake
In the unlikely event, the motor drive shears an automatic safety brake instantly stops the door from dropping.
Space Saving Roll
The door travels vertically into a compact roll for maximum space inside and out. Meaning no lost space with our solutions.
Manual Override
If the power fails, a simple hand crank allows you to wind the door up or down to keep you secure and maintain access.
Anti-Lift Locking System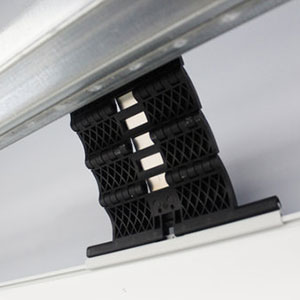 Secure closure is maintained with high grade, robust lock straps that prevent the curtain from being lifted. Their turn lock design provides ease of installation.
Durable Slats
The curved and ribbed profile of the T77 & T55 slats are formed from aluminium filled with CFC free foam for a lightweight, strong and corrosion-resistant curtain.
Effective Weather Strip
The profile of the bottom edge weatherstrip channels rain run-off away from the door to minimise water ingress into the garage space.
Strong Guides and Slats
Extruded aluminium guides with a draught brush and anti-rub glide brushes ensure the door curtain is secure and the operation is smooth. The extruded bottom weatherstrip channel adds further rigidity.
Wireless Safety Edge Sensor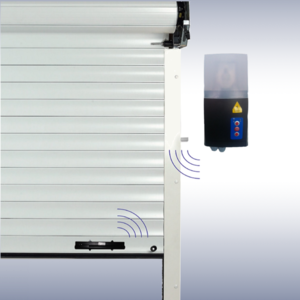 The standard solution is proven for long-term reliability and uses a wireless safety edge to automatically halt the door on detecting an obstruction – fully compliant with European Safety Directives.
Choice of Motors
Aluroll carefully selects and test the best industry motors. Our motors are manufactured by the likes of Somfy, Elero, GFA and NRG Automation. All come with a comprehensive 5-year warranty.
The below solid colours and painted wood effects are standard options. Solid colour roller garage doors are available with matching box and guides as standard, or traditional white or brown. Painted and laminate wood effect doors are supplied with brown box and guides as standard. Enclosures and guide channels can also be powder coated other RAL / BS colours for a surcharge.
*Please note: Graphite and Duck Egg Blue are not available for the Compact door. Chartwell Green and Moss Green are available on request for the Compact door (longer lead times may apply).
Anthracite
(RAL 7016)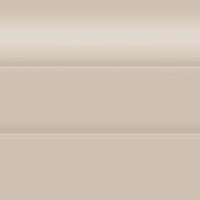 Beige
(BS 08B17)
Blue
(Blue 5011)
Brown
(RAL 8019)
Chartwell Green*
(NCS S3010 G10Y)
Cream
(RAL 1015)
Cream White
(RAL 9001)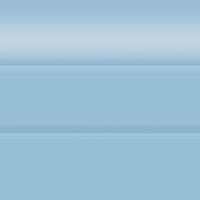 Duck Egg Blue*
(NCS S 2030 B10G)
Fir Green
(RAL 6009)
Graphite*
Grey
(RAL 7038)
Ivory
(RAL 1015)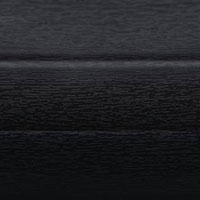 Laminate Black*
Moss Green*
(RAL 6005)
Painted Golden Oak
Painted Irish Oak
White Painted Walnut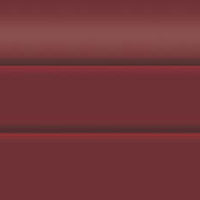 Red
(RAL 3005)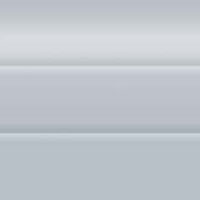 Silver
(RAL 9006)
Velvet Brown
(RAL 7016)
White
Wood laminate finishes are available for a surcharge. The laminate applies to one side only and is therefore only suitable for internal face fits. Wood laminate effect doors are supplied with brown box and guides as standard, solid colours have the closest available colour match. Other laminate finishes available on request.
*Please note: Laminate finishes are not available for the Compact roller garage door.
Laminate Anthracite*
Laminate Golden Oak*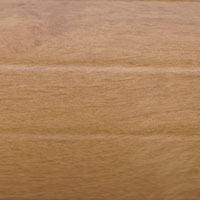 Laminate Irish Oak*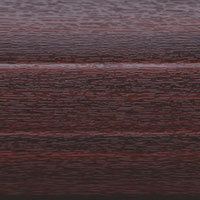 Laminate Mahogany*
Laminate Rosewood*
Laminate White*
Installation
Flexibility with the fitting of 'Choices' SecureRoll doors makes it easier for any installer to find the perfect fitting solution.
Factors like the product type, its size, the wall construction and how much overhead space you have an effect which options are most suitable
Internal Face Fix
The most common location is fitting to the inside face of the garage opening. Maximises security and the clear drive-through width between the opening uprights.
Reveal Fix
Fitting under the opening lintel and between the uprights when face fixing is not possible. It requires good reveal headroom. Aluroll T55 Compact is ideal for this installation
External Face Fix
When headroom does not permit internal fixing the doors can be fixed to the external face. A full roll box is required. The concave face of the door curtain slats face outwards
Comparison Table
Standard:     Optional:
Scroll L and R to view both products
Classic
Compact
Accreditations
CE Mark
Secured by Design
5 Year Secureroll Warranty
Measurements
Slat Height
77mm
55mm
Maximum Overall Width
5500mm
3000mm
Maximum Surface Area
16m²
9m²
Required Headroom
250mm / 300mm / 360mm
205mm / 250mm
Guide Channel Width
70mm / 90mm
66mm
Specification
Insulation
Full Box
Half Box
Anti Lift Locking System
Colours
Standard Options
21
16
Wood Laminate Finishes
4
Half Box
Powder Coating
Ask about our E37 shutter
Operation
2 Handsets
Courtesy Light & Alarm
Safety Edge System
Internal Manual Override
Key Pad
Wireless Wall Switches
Smart Home Integration
Controls
Holiday Mode
Intruder Alarm
Courtesy Light
Choices SecureRoll Garage Doors
Choices SecureRoll Garage Door Installation
Product Downloads
(Click on a link to download the file)
Choices Energy Savings Calculator
Do you want to know how much energy you can save by swapping to Choices Brand Windows?
With the ever increasing cost of fuel bills on everyone's minds, do yourself a favour and see how much energy you could save by swapping your tired old windows to our Energy Effcient 'Choices' brand windows. Not only will you likely save money but you will also be doing your bit to help the environment.
CONTACT US
Contact us on 01536 271940 or fill out our Online Enquiries Form