Kubu and Choices partnership
How many times have you thought… Have I locked my door?
Take the guess work out of if your door is locked or not, with a Kubu enabled smart notification door which provides real time status updates.
Once your new door is fitted, you will simply need to follow the link on the faceplate to purchase your Kubu sensor and hub, directly from Kubu to complete your setup.
What is Kubu?
Kubu is a smart sensor system that can be easily installed on your door.
Once installed and set up the Kubu smart sensor allows you to monitor if your door is locked or not in real-time using the dedicated Kubu app on a phone or tablet, giving you that extra peace of mind that your home is secure when you start second-guessing.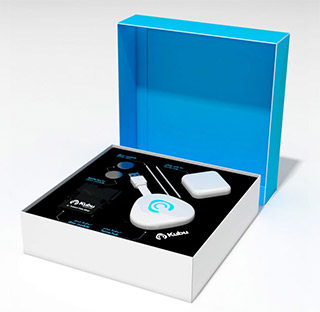 How does Kubu work?
Once the Kubu module is connected to the Kubu home hub on your wifi you are ready to start tracking your door's status. A sensor inside the Kubu door module is activated every time the door is locked or unlocked and uploads real time updates on the status of all your Kubu enabled doors.
These updates can then be viewed through the Kubu app on your mobile or tablet from anywhere in the world. If anyone attempts to force open the door, the homeowner will immediately be notified and be able to take the necessary action.
Perimeter
If you leave your home and your phone disconnects from wifi, the Kubu app will notify you if the door has been left unlocked.
24/7
Get real time access to your door's status at anytime through the Kubu app, from anywhere in the world.
Notifications
Be notified through the app every time your door status changes.
History
The Kubu app allows you to check through your door's access logs throughout the month
Share
For added peace of mind you can share the status of your door with friends and family.
Reminders
Set reminders to check your door at specific dates and times.
FAQs
Q: Is my phone compatible?
A: The Kubu home app is compatible with both Android and Apple smart devices.
Q: Can I be "Out of range"?
A: No, whenever you are connected to the internet, you have access to your Kubu home app.
Q: Can I connect my Kubu app to Amazon Alexa?
A: Yes, you can seamlessly pair your Kubu home app with Alexa for additional functionality.
Video
See more About Kubu
CWG Choices and Kubu Partnership
Introducing The Kubu Smart Lock
Kubu Smart Security and the Connected Home
Kubu Smart Lock Product Review