The Luminia F82 Aluminium Bi-Folding Door
These high performance solutions fuse the comfort of inside spaces and the freedom of outside living with slim sightlines and uninterrupted glazing areas
Our Aluminium Bi-Folds are a truly innovative creation, continuously pushing the industry forward with unrivalled appearance, performance and efficiency. Manufactured by expert engineers that utilise the latest modern technology, these products exceed current standards and regulations.

Visibly Different
We understand the desire for slimmer sightlines which is why the Lumina F82 has been designed with reduced outer frame rebates that are symmetrical. This boasts greater glazing areas, flooding the room with more natural light than ever before.
Details
Max Vent Weight: 150 kg
Sightline - Head: 97 mm
Sightline - Cill: 97 mm
Sightline - Jamb: 97 mm
Sightline - Meeting Stile: 122 mm
Max Leaf Height: 2500 mm
Max Leaf Width: 1200 mm
Frame Depth: 82 mm
Glazing Thickness: 28 mm - 44 mm
CWG Choices STD offering U Value 1.5 w/m2k
Option for matching Single & Double Residential Doors using same suite (Max 1200 x 2500 Leaf)
Exceptional performance and resistance
Security is really important to us, that's why we have gone through rigorous testing and developing to guarantee you the utmost level of protection; so you can have peace of mind that you're stylish and secure. With an outstanding U-value of 1.3 (Double Glazed) and 0.9 (Triple Glazed), as well as being PAS24 and Document Q Compliant - you can have full confidence that you are receiving a top of the range door that will do more than just look pretty.
Impeccable Design
Homeowner requirements and demands were kept in mind throughout the whole design process of these doors, and we've really gone the extra mile to produce new, innovative and efficient features.

Due to fewer parts and profiles, you can enjoy larger, uninterrupted glazing areas and quicker fabrication times. As well as this, the all new flush pop out T-Handle ensures effortless operation whilst being able to conceal un-aesthetically pleasing handles. All doors are manufactured with heavy duty stainless steel as standard and utilises a unique gearbox for ultimate ease when operating.
Innovative, not imitation
Features and Benefits
Flush Pop Out T-Bar Handle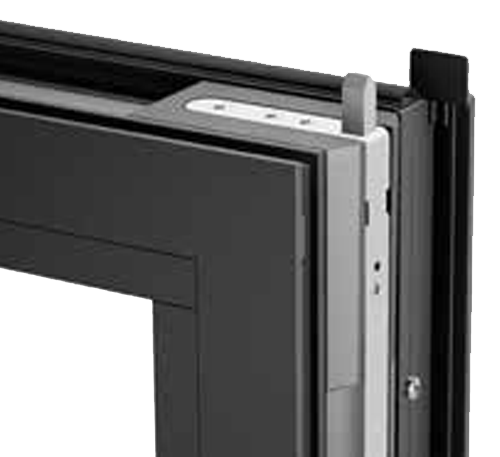 Shoot bolts Top and Bottom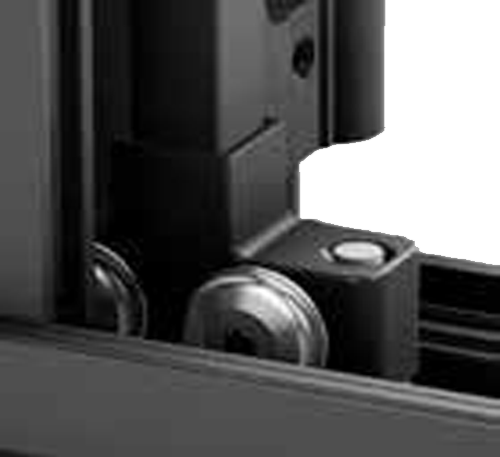 Heavy duty compact rollers
As well as this, they include:
Unique traffic door
Re-designed flush pop-out handle
HD Compact rollers as standard
Both frame and cill sightlines of 97mm
1.3 U Value (Double Glazed)
1.1 U Value (Triple Glazed Centre Pane Glass U Value of 0.7)
Document Q & PAS24 Compliant
Class 4 (600pa) Air Tightness
Class 9a (600pa) Water Tightness
122mm Slimline interlock
Low threshold
Options
Here at 'Choices' we like to give you the ultimate choice. That's why we ensure that each of our products can be customised and tailored to your exact desires - whether they be big or small.

That's why with these doors, you get the option of:
Single/Dual colour options
Double/Triple Glazing
Black/White Hardware
Silver hardware in development
Square Bead options
2 - 7 pane configurations available
All configurations available in open in/out
Colours

Hipca White

Anthracite Grey

Chocolate Brown
Deep Black
Dual Grey/White
Dual Black/White
Any RAL Colour