Choices Door Security
All Choices doors have a high level of security as standard
However, even higher levels can be achieved since Choices is accredited by Secure By Design (SBD).
Choices Doors can have their security enhanced by fitting the 'RASP cylinder protector kit' and/or 'laminate glass'. A "Secured By Design" door is laminated glazed top and bottom with a midrail and the 'RASP' cylinder protector kit.
Yale is the preferred locking system of the "Choices" brand
Choices provides exceptional quality and security for your Doors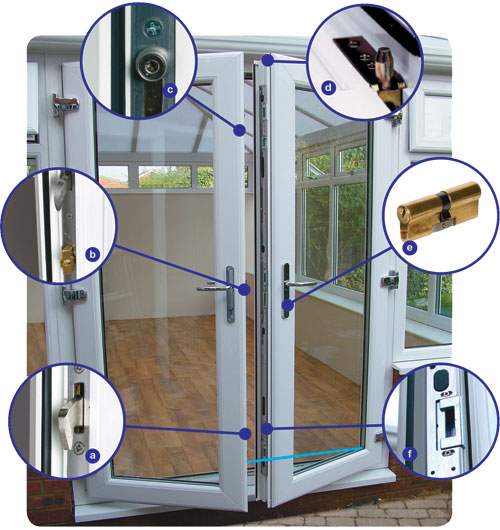 Hook claws top and bottom operate in reverse directions for anti-lift
Centre hook claw with smooth locking operation. Provides high level of security in the centre of door
Top and bottom roller cams provide a reliable weatherproof seal
Adjustable steel 8mm diameter shootbolts as standard on slave door and optional on master door
Anti bump/snap cylinder optional
Stainless steel one piece keeps combine with hook claws to provide highly secure locking and non corrosive long lasting performance
Secured By Design
Choices Doors are available Secured By Design as Yale high security locks are 'Police Preferred Specification'.
Secured by Design is the official UK Police flagship initiative supporting the principles of 'designing out crime'. Please contact your Local "Choices" Installer for further details on Secured By Design.
Yale KeyFREE Lock
The very latest in security from Yale is the Keyfree lock. Combining peace of mind with convenience by allowing you to access and protect your property without the need for a key. Instead, you can securely lock and unlock your home either by using a remote control fob or by entering your own personal code into a built-in keypad on your door.
This means no more lost keys, no more rummaging in your bag and no more cutting keys for visitors – Yale Keyfree is the perfect way to make your new composite door complete. See all the benefits of the Yale keyfree lock here.